Protective cover for robot
Overcome your constraints
ASP SPECIALIZES IN THE MANUFACTURE
OF PROTECTIVE COVERS FOR INDUSTRIAL ROBOTS.
ASP's first robot protection was developed in 1988 for a sandblasting robot. Today, ASP offers protection solutions for more than 1,000 robot models (articulated arm robots, linear robots (gantry robots), Delta robots, etc.) and protects different types of robots from more than 90 brands including, among others, KUKA, FANUC, ABB, YASKAWA, KAWASAKI.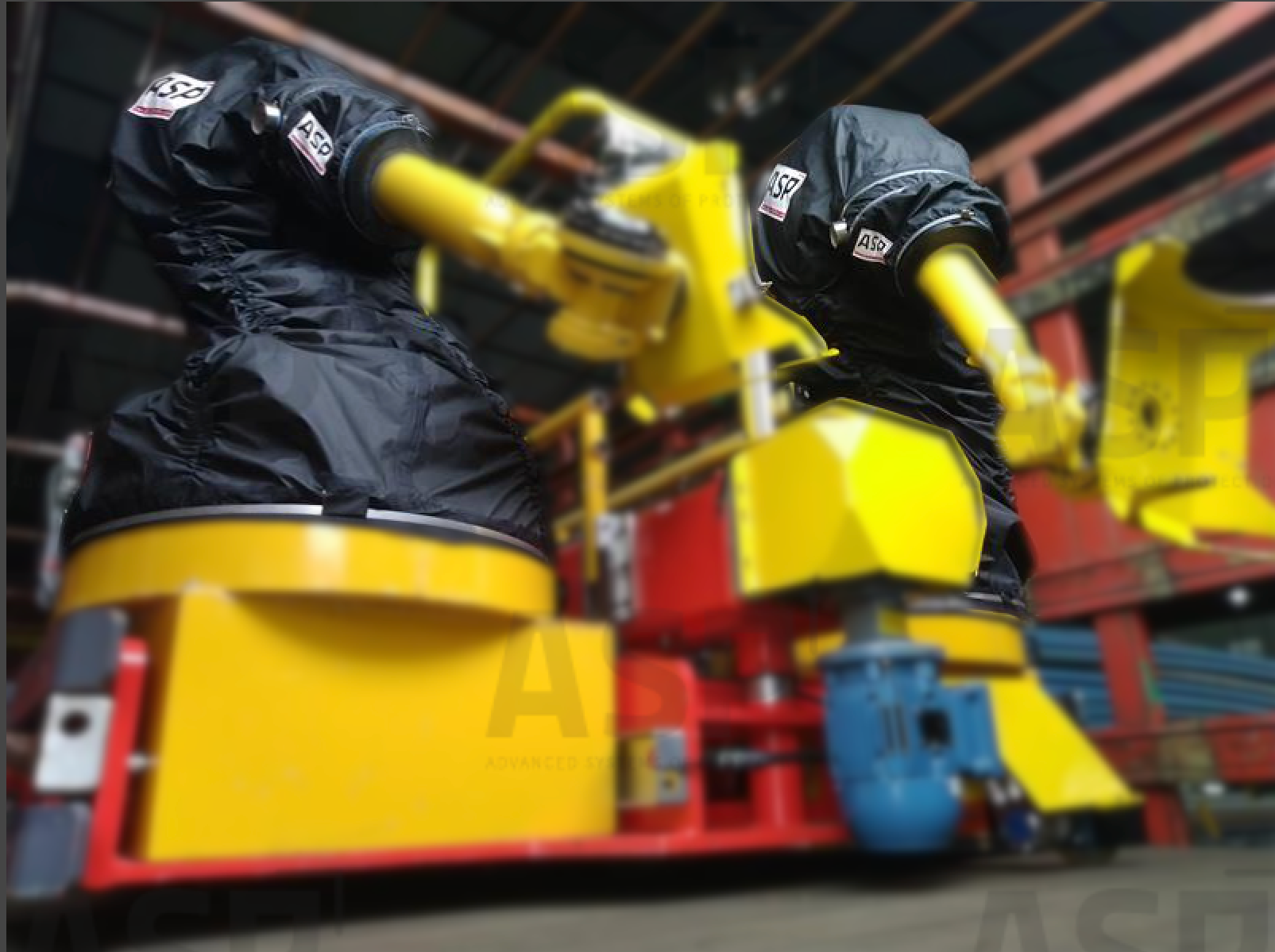 PROTECTIVE COVERS FOR INDUSTRIAL ROBOTS
To reduce the maintenance costs of your industrial robot and protect the surface of the robot, joints and axes from damage such as welding spatter, dust, as well as extreme heat or cold, ASP develops protective jackets for robots in the following industrial fields:

Oneseam covers for UNIVERSAL ROBOTS cobots For more than 30 years, ASP has been innovating to provide quality protective covers for robots of all sizes, and in the most aggressive environments. ASP's reputation has gone beyond borders! Find us now on the UR+ platform...
FEATURES AND BENEFITS OF OUR PROTECTIVE COVERS FOR ROBOTS
Over 35 years of experience as a manufacturer of robot suits throughout Europe.
Personal on-site advice and individual manufacture of customized robot covers.
Once a robot jacket has been manufactured by us, it can be reordered (small modifications and adaptations are also possible).
If your robot suits is damaged, we can also repair your ASP robot cover.
Innovative, tailor-made robot protection in a wide range of working environments and industrial sectors, in accordance with ISO 9001 quality standard (TÜV certification 2015).
CUSTOMIZED ROBOT COVERS, TAILORED TO YOUR NEEDS
We work closely with you on-site to identify potential hazards or aggressions (heat, sparks, dust, cold, etc.) that your robot may encounter. We take into account specific processes and consider the working, resting, and maintenance positions to design the perfect protective robot suit.
With our personalized advice and on-site analyses, we can create the ideal protective cover for your robot and its environment, whether it operates in climatic chambers, paint lines, foundries, or elsewhere.
In addition to full suits, we also develop protective solutions for specific parts of your robot, such as the robot arm, gripper, protection from axis 4 onwards, and more.
Feel free to contact us for more information! We are here to help you find the best protection solution for your robot."