Some industrial robots evolve in extreme conditions, subjected to heat and / or hot or even incandescent projections. ASP has created specific covers for them, made of M1 classified fabric: they are non-flammable. Explanations…
French standard (NF) for reaction to fire
In fire safety, reaction to fire is characterised by the way a material will behave as combustible. It is defined by 2 criteria:
Combustibility: quantity of heat emitted by the complete combustion of the material
Flammability: amount of flammable gas emitted by the material
According to standard NF P. 92.507, these 2 criteria fall into 5 categories, from M0 (the most difficult to ignite) to M4 (the most easily inflammable). Materials classified M0 will hardly ignite while materials M4 will ignite very quickly.
Classification M1 and M0 of ASP fabrics
ASP has 10 different technical fabrics, respecting the classification M1 or M0. They are mainly used for the design of protective covers for robots in the automotive and aeronautic industries, in the forge and foundry.
Body assembly and welding
The shoeing activity in the automotive industry requires protective covers resistant to welding spatter.  Based on aramid, the technical fabrics used provide excellent mechanical resistance for arc welding, spot or laser welding, and durably protect from splashes.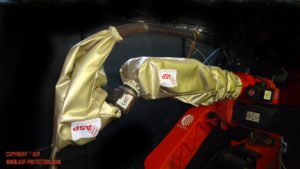 Wrist cover in Tiffon-R
ASP has also developed a cover system for CMC (Clever Modular Concept – patented solution). The welding gun protection are protected by two technical fabrics classified M1:
Texalis, fabric coated on two sides, one of which in aluminized rubber, constitutes the body of the cover
Cardel, which has a green elastomeric face, has a high resistance to sparks. It constitutes the plastron (thickness 2mm)
In addition, these 2 aramid-based fabrics are guaranteed to be silicone and halogen-free, and are tear-resistant.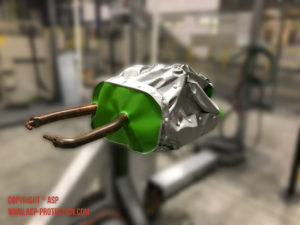 Welding gun cover
Protections in the automotive industry
ASP propose également à ses clients de l'industrie automobile des housses de protection de véhicules fabriquées en Covel (un tissu technique orange classé M1 doublé d'un élastomère noir) ou en ELIT2. Sans silicone, il offre une très bonne protection contre les impacts, et bien sûr les projections chaudes accidentelles. La housse véhicule est fabriquée sur-mesure pour assurer une efficacité maximum aux opérateurs.