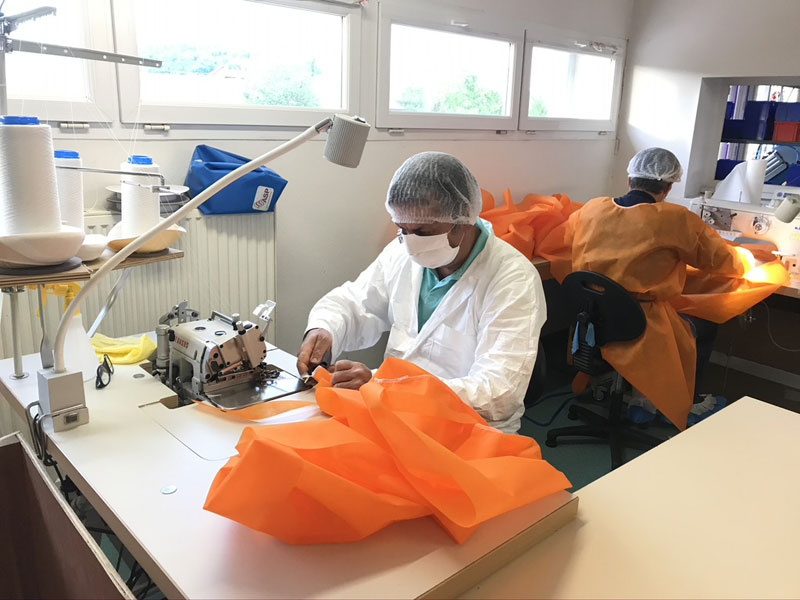 The production of medical protection equipment back to France has not been won yet. But the expertise of French industrial companies is no longer to be proven.
Medical gowns for the hospital of Nancy

At the end of March, facing the critical situation and the distress calls from the medical environment, ASP leaders put themselves in contact with the university hostpital of Nancy to offer their help: the hospital was looking for regional companies capable of manufacturing gowns for medical staff.
ASP was then in the process of adapting its services to better manage the effects of the health crisis and preserve the health of employees. The suspension of the production of covers decided on March 19 had placed some employees in partial activity; others were teleworking to continue advancing on pending cases. At the same time, since March 23, some employees have already been manufacturing category 2 masks in conjunction with the Alsace Textile Pole.
A volunteer team facing the coronavirus
For this mission to support caregivers, management had the objective of being at the lowest cost. Only the "cut" raw material will therefore be invoiced to the Nancy University Hospital at cost price, the preparation being provided thanks to the volunteer work of ASP staff, outside production hours. Half of the company's workforce volunteered to support this process, while emergencies in France were under the pressure of the pandemic.
A smoothly conducted affair
We contacted one of our suppliers to find a fabric which corresponds to the specifications linked to the manufacturing of gowns. The available color, orange, was accepted by the CHU. 5 prototypes were produced to validate the series. Then the "start" was given!
In shift, the volunteers, dressmakers of course but also administrative, commercial staff, technicians or even managers take turns to assemble, control and then pack the gowns, all in strict compliance with the health protocol to guarantee non-compliance contamination of delivered equipment.
Thus, after working hours or Saturdays, between 150 and 250 over-blouses are produced by each team. The target is to deliver 6,000 pieces in total.
The return of CHU staff is very positive and our teams are proud to contribute to this national surge of support for our caregivers.